Description
Jumper Wire Male To Male
These are 6″ long jumper wires with male connectors on both ends. Use these to jumper from any female header on any board, to any other female header. Combine these with our female to female jumpers to create a male to female jumper. Multiple jumpers can be connected next to one another on a 0.1″ header. Comes in one pack of 20 jumpers (colors shown). Each group of jumpers are connected to each other and can either be pulled apart in any quantity (from 1-20, of course) or kept whole based on you needs.
These jumper wires can be used for pretty much everything! They work great with breadboards, Arduinos, and really any 0.1″ pitch prototyping board.
Jumper wires are simply wires that have connector pins at each end, allowing them to be used to connect two points to each other without soldering. Jumper wires are typically used with breadboard and other prototyping tools in order to make it easy to change a circuit as needed. Fairly simple. In fact, it doesn't get much more basic than jumper wires.
What Do the Colors Mean?
Though jumper wires come in a variety of colors, the colors don't actually mean anything. This means that a red jumper wire is technically the same as a black one. But the colors can be used to your advantage in order to differentiate between types of connections, such as ground or power.
Types of Jumper Wires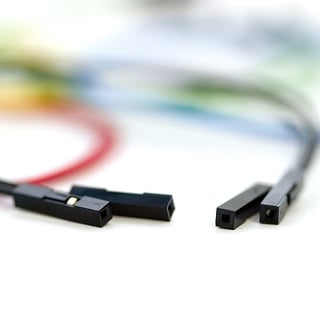 Jumper wires typically come in three versions: male-to-male, male-to-female and female-to-female. The difference between each is in the end point of the wire. Male ends have a pin protruding and can plug into things, while female ends do not and are used to plug things into. Male-to-male jumper wires are the most common and what you likely will use most often. When connecting two ports on a breadboard, a male-to-male wire is what you'll need. Source: SparkfunEducation
More types
There are different types of jumper wires. Some have the same type of electrical connector at both ends, while others have different connectors. Some common connectors are:
Solid tips – are used to connect on/with a breadboard or female header connector. The arrangement of the elements and ease of insertion on a breadboard allows increasing the mounting density of both components and jump wires without fear of short-circuits. The jump wires vary in size and colour to distinguish the different working signals.
Crocodile clips – are used, among other applications, to temporarily bridge sensors, buttons and other elements of prototypes with components or equipment that have arbitrary connectors, wires, screw terminals, etc.
Banana connectors – are commonly used on test equipment for DC and low-frequency AC signals.
Registered jack (RJnn) – are commonly used in telephone (RJ11) and computer networking (RJ45).
RCA connectors – are often used for audio, low-resolution composite video signals, or other low-frequency applications requiring a shielded cable.
RF connectors – are used to carry radio frequency signals between circuits, test equipment, and antennas.
RF jumper cables – Jumper cables is a smaller and more bendable corrugated cable which is used to connect antennas and other components to network cabling. Jumpers are also used in base stations to connect antennas to radio units. Usually the most bendable jumper cable diameter is 1/2″.
Jumper pins (points to be connected by the jumper) are arranged in groups called jumper blocks, each group having at least one pair of contact points. Source:Wikipedia
External links